The spirit of entertaining foreign talent
Obuse has become known for chestnut production. Obuse-do is a well-established chestnut confectionary with 600 years of history. In his later years, the famed ukiyo-e artist Katsushika Hokusai visited this area four times and stayed to paint. Takai Kozan, a man of culture and art from a wealthy sake-brewing family, perceived Hokusai's talent and supported him generously by building the artist an atelier called Hekii-ken and welcoming him warmly. Essentially, it is the nature of wealthy citizens in Obuse to enjoy and welcome the expression of the talent of writers and artists who come from elsewhere.
A row of tiled roofs, garden features, a pathway utilizing blocks of the area's abundant chestnut wood, an interesting variety of paving stones, shop curtains and signboards; all of these carry the spirit of connoisseurs who have nurtured culture; these are not simply preserved historical cultural assets; today, they remain living assets vitally inspiring to the community in this quarter. The collection of Hokusai's important work is in the Hokusai Museum, Hokusai-kan. During his stay in Obuse, at the age of 85 and 86, Hokusai created the ceiling paintings for two festival floats by hand, so this work conjures up a different sense of dynamism from that found in his ukiyo-e and Hokusai Manga.
As if in agreement with this comment by Tsuguo Ichimura, 17th head of the Obusedo family, "in terms of food, our land should be a kingdom, not a production area", Obuse boasts a fertility characteristic of mountain country. The harvest of chestnuts here has produced the finest confections, like kurikanoko (chestnut paste jelly cake) and mont blanc suzaku (pureed, sweetened chestnut extruded into the shape of a mountain) the result of many years of research. At the small Masuichi-Ichimura Sake Brewery, they still make sake using wooden barrels. When the winter Olympics was held in Nagano, I responded to the owner's request and designed the bottle for one of the brewery's premium brands Hakkin, as well as the brewery signboard.
Kurabu (The Club) restaurant and the hotel Masuichi Kyakuden (interiors by architect John Morford) have added new cultural depth to this area. Morford, who studied under Frank Lloyd Wright, has completed just three projects in Japan: these two in Obuse and the interior at Park Hyatt Tokyo and these two facilities in Obuse. It was Morford, who hand-designed this wood-centric interior, who carefully expresses in his own language the essence of Obuse that he himself experienced.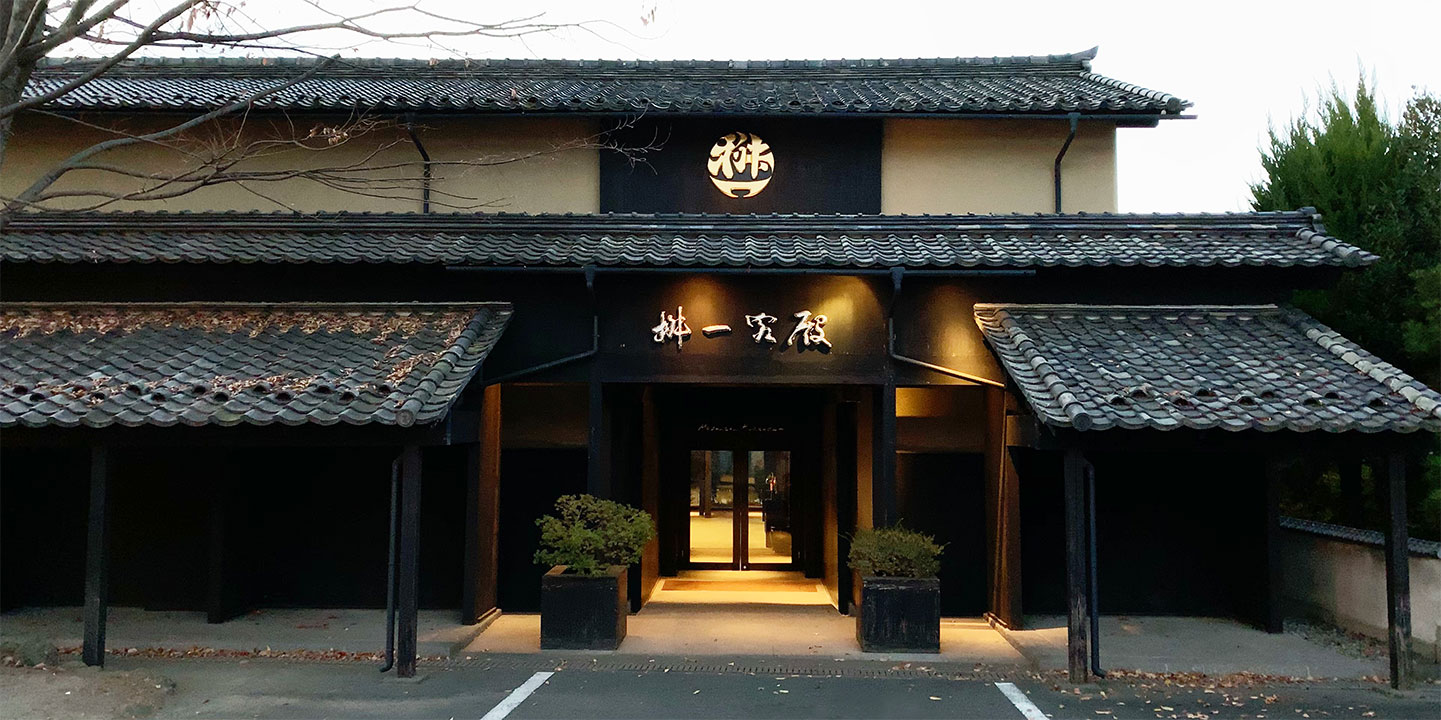 The arrangement of Kurabu's kitchen space provides an abundant sense of openness; the elegance of a large kamado (traditonal cookstove) and a meshitakigama (traditional cookstove for rice) uniquely enshrined there made me want to sit at the counter and drink sake. Photographs featuring the old sake brewery, chosen by Morford, a photography lover, blend well with the character of the space. Kyakuden was created by dismantling, relocating and reconstructing three dozo (thick earthen-walled storehouses). The interior is neither Western nor Japanese, but it gently conveys the Obuse spirit, one that cordially welcomes and hosts visitors from afar.
2019.12.2