An art university library is art
Every year during cherry blossom season, there's a certain place I like to visit: the library at the university where I teach, designed by Sousuke Fujimoto. With its dark glass windows, mirrorlike, reflecting the cherry blossoms in full bloom, it suddenly causes to appear a fantastic image in which blossoms and architecture mingle in an obscure boundary. Because this is the season straddled by both graduation and entrance ceremonies, as a teacher I have complex feelings, in which final farewells and initial greetings intersect; I am tempted to entrust these mixed emotions to this scenery. Therefore, even though this structure, this facility, is a familiar one, because I consider it an important and worthy subject, I've decided to investigate and report on it. 
The library was built in 2012. The existing art museum and folk art gallery, as well as the new library and image library were integrated into the Musashino Art University Museum & Library, a beauty and knowledge facility. Apparently Fujimoto's original concept was a forest of books, the creation of a space that intentionally displaces one in the cosmos of books, engendering as-yet-unknown encounters. In my case, certainly, I wander into this forest of books, invited by the architecture before I know it. 
To my surprise, upon entering, I find empty bookshelves. What kind of a library is this?  However, what seem to be bookshelves are only walls, an optical illusion; books won't even fit here. In fact, by creating a space in which one seems surrounded by emptiness, the architect generates in visitors a sense of possibility. The library is actually known for its collection of approximately 320,000 books, 5,000 academic and specialized periodicals, a collection of 20th century avant-garde art and a natural history archive.
The moniker "Museum & Library" was intended to indicate ubiquitous information access, allowing visitors to savor art while experiencing both reading and visual materials. In fact, one can enjoy reading while seated in some of the iconic chairs placed next to the bookcases, examples similar to those contained in the museum's Chair Collection. With sculptures found at every turn, as well as extraordinary lighting, signage, furniture and fixtures, the library space itself seems like a work of art.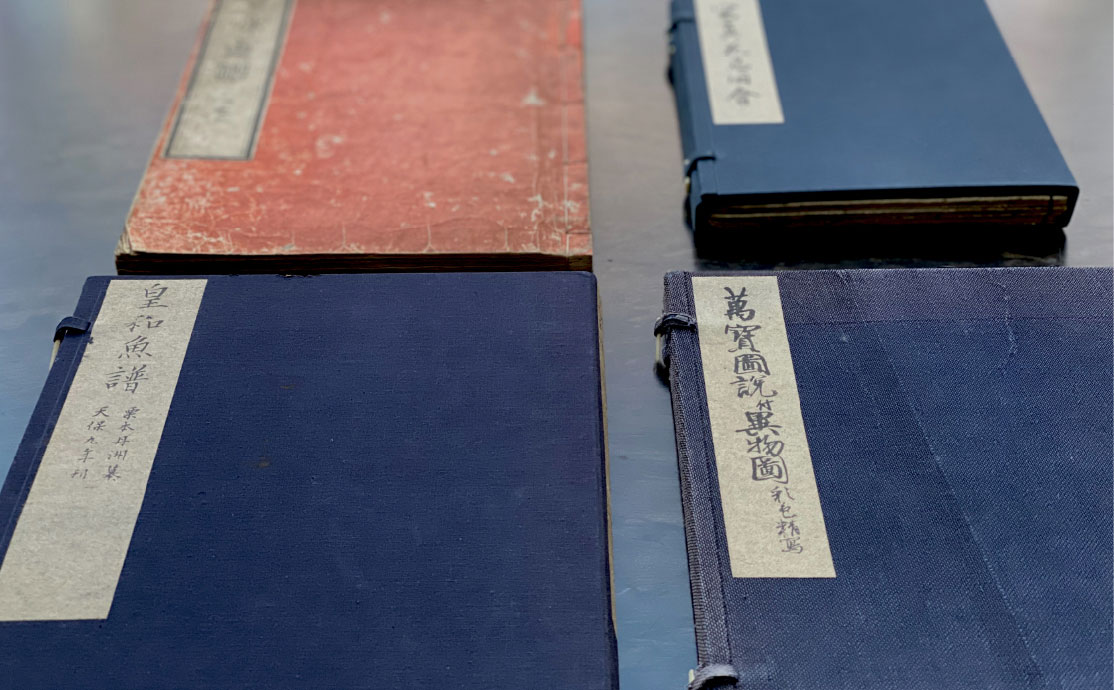 As a trial, I had the staff bring out materials from the Japanese natural history albums of the Edo period. The well-known collections of natural history materials from all over the world donated by a specialist in natural history and iconography, Hiroshi Aramata, are spectacular. Materials can only be viewed in person by students and faculty of the university, but the entirety of the collection's illustrated catalogues of natural history are available online as high-definition images. In addition, architectural tours of the library are held two or three times a month when requested by overseas groups. 
2020.6.1