A maze-like hot spring resort
The unobtrusive arrangement of trees and wild grasses lends a rustic beauty to the front garden. The journey to the inn, made while listening to the reverberating sound of the babbling stream as you slip through the main gate, cross the bridge and enter the inn, engenders a feeling of expectation, as if an unexplored horizon waits just beyond. The proprietor says that his goal is to create an onsen resort where Japanese people who have traveled abroad a lot and have experienced resort hotels many times can feel relaxed and at ease, "Ahh, this type of luxury can be found in Japan too!"
The current proprietor, Tatsumi Kanai, was just 25 years old when he took over the resort in 1978. He had just started helping out at the resort, which was run by his parents, when his mother was beset by a serious illness and he took over the heavy responsibility of management. It was a time when there was a trend of rural inns embarking on adventurous management, but, seeking the advice of experts, Kanai set himself to do what he could, bit by bit, with the small lodge in the mountain village.
When he first began managing the inn, Kanai had had a bitter experience; the remodeling plan proposed by the design office overshot his budget by 500%, effectively extinguishing the implementation stage. Using that failure as encouragement, he went to a small design office, and worked with them to identify a form for the facility that wouldn't thwart the terrain. The current structure was completed in 1988. It utilizes the rocky mountain slope as is, and leaves the trees be, rather than cutting them down. The resulting maze-like structure grows more comfortable as you walk around.
Classic western-style furniture graces the rooms. It's a bit of a surprising design for anyone who arrives expecting a Japanese space, but the selection is the result of careful thought by the proprietor and the consistency of character sinks in as time passes. There was a problem with Japanese seating, and when considering both the ease of sitting and a style that would suit the rustic architecture, he came up with the solution of deeply colored western furniture. Certainly, it may be best when experiencing the trance-like ecstasy of a hot spring resort to give oneself up to an extraordinary, slightly alien time-space.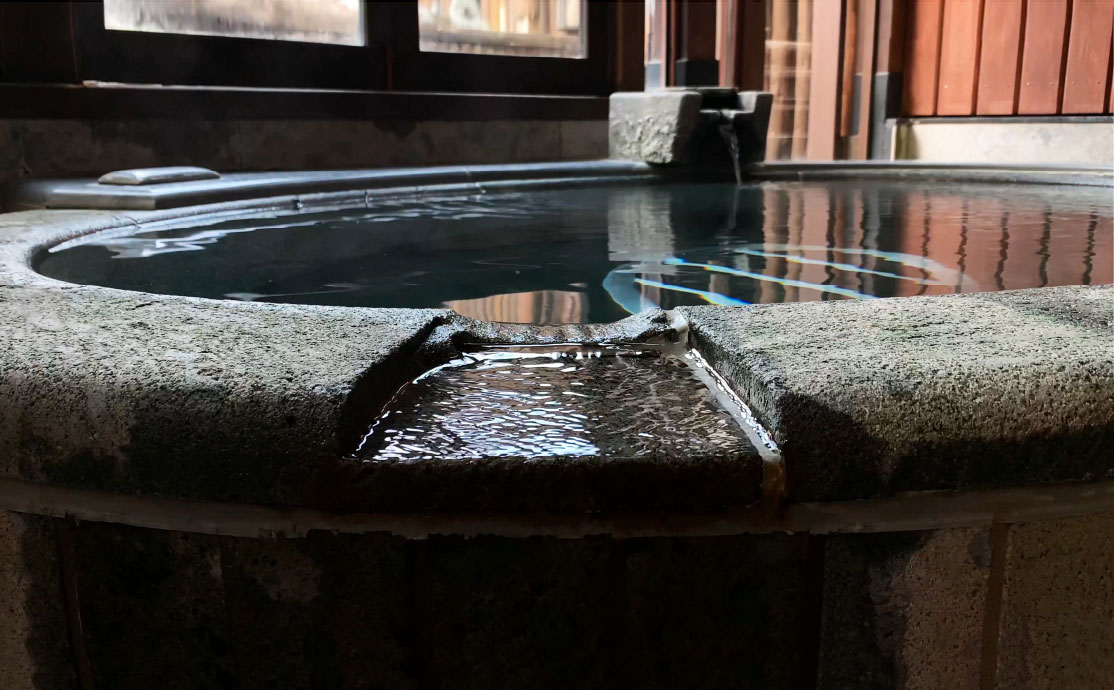 The cave bath, fed by hot water emerging from a dark tunnel, is very interesting, but the entire layout is perfect, from the three baths, including an open-air bath; to the size of the tubs; the placement of the rocks; even the beauty of the flowing hot water, and reveals a deep understanding of the pleasure of an onsen. Considering the scale of the facility, the 18-room count is really rather modest. And the food and service, representative of home cooking by a rural mom for a special occasion, leaves nothing to be desired; it is the food of a mountain lodge.
2020.8.3