Cruising the calm sea aboard a floating ryokan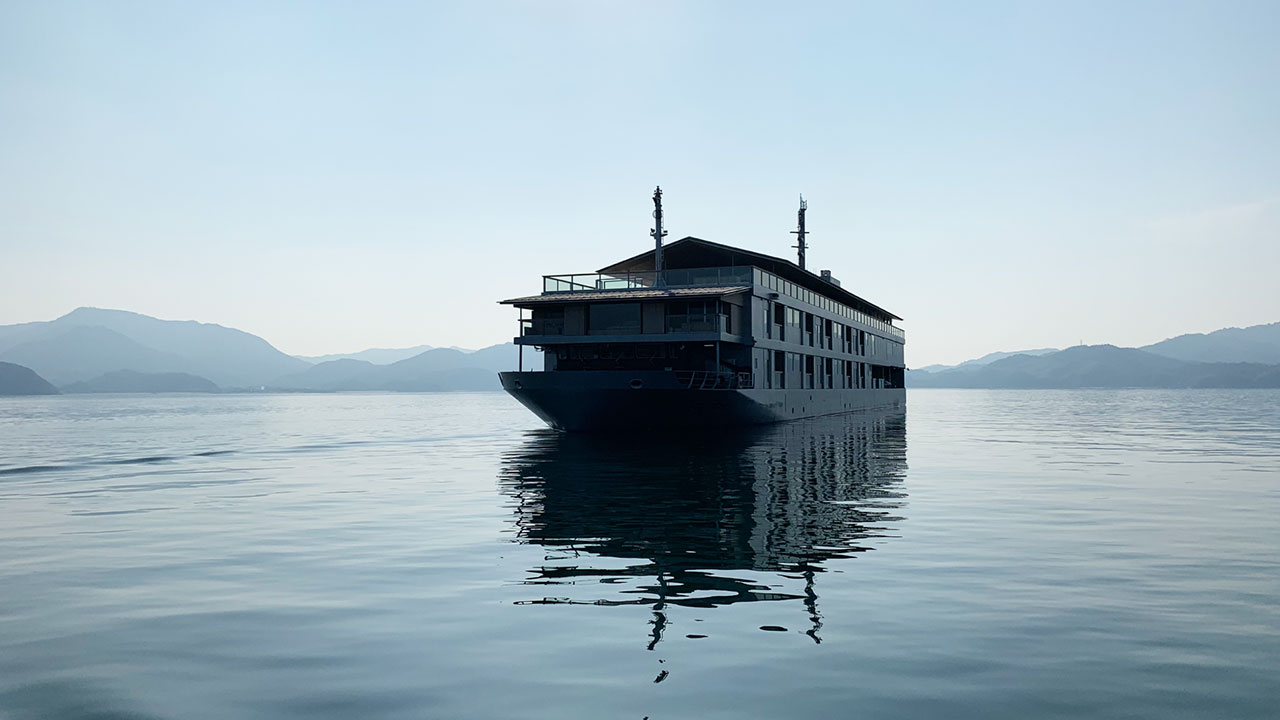 You hardly notice the movement. A friend on board with me on this floating ryokan said, "The ship next to us just started out," so I looked out the window. Wrong! It was ours that had begun moving. Because it's powered by an electric engine and tours the calm Seto Inland Sea, the motion is so smooth that you feel like you're not even on a boat. This surprised me. I reckoned it was due to the high level of technology afforded by the operating company's parent, a shipbuilding enterprise.
The islands here, together comprising one of Japan's first national parks, look like bonsai floating in the sea. Everything is tranquil: the shapes of the islands, the trees that cover them and the nature and sunlight that have nurtured them. On the ship Guntu are combined the provision of the entirety of rich seascapes and seafood, the height of hospitality, and a space in which every detail has been thoroughly considered, all enveloped in Japanese food culture. To be noticed globally, it's necessary to understand and polish one's distinct locality. Here this viewpoint is realized with enchanting concept and style.
On this ship, whose interior is furnished in austerely elegant wood, there are 19 guest rooms, a main dining room, lounge, bar, spa with a cypress tub and a treatment room. Shortly after we set off, a small fishing boat drew close. It had come to deliver just-captured wild octopus. With deft movements of his knife, the itamae (highly skilled chef) prepared octopus sashimi on the spot. Just like that, the passengers, provided with soy sauce and chopsticks, were blessed with the treat of fresh sashimi.
At the rear of the main dining room is a six-seat sushi bar. At Awaji island, an esteemed itamae boarded. Because I love sushi, I spent three meals at this sushi bar: dinner, lunch, and dinner again. The itamae, who thus had become like my own dedicated chef, continually converted the bounty of the Setouchi region into pleasurable foods, of which I never tired. Each and every ingredient is local and carefully selected and served, be it sake, meat, fish, or vegetables. I passed the time blissfully, enjoying from the corner of my eye a view of the scenery quietly flowing by.
Every guest room has its own bath, but the large public bath, situated in the stern, allows guests to view the ship's wake while soaking, enveloped in the fragrance of yuzu (Citrus junos) floating on the water. I took a three-day, two-night cruise from Innoshima to the area around Shodoshima, during which I also enjoyed excursions via the ship's tender to Naoshima, Shodoshima, the port town of Tomonoura and beyond. "Guntu" refers to the small blue crabs harvested in the Setouchi Inland Sea. The local people use these tiny creatures to make dense savory broth for miso soup and hot pot.
2019.7.18